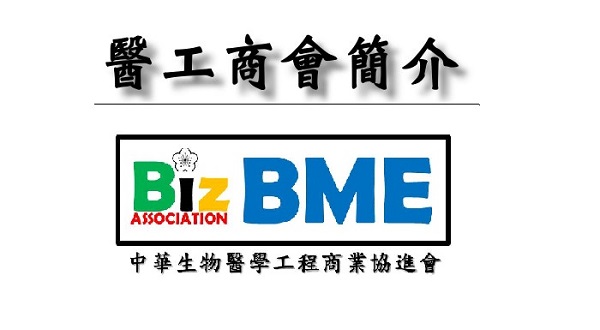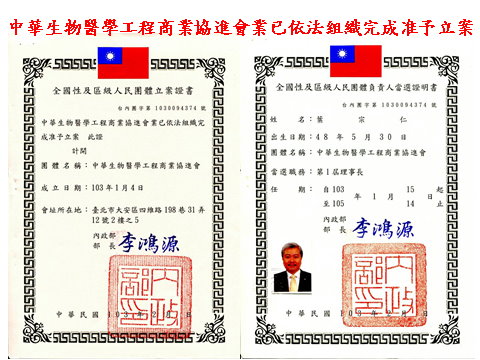 台灣的『生物醫學工程』始創於民國61年,由當時中原理工學院韓偉院創立醫學工程系。至今42載,畢業系友達三千多人。現今,台灣由北到南與生物醫學工程相關的系所,已然有28個院所,每年畢業專業人員將近千人。然者,早年生物醫學工程環境並非如預期理想。基於台灣有限的市場,生物醫學工程畢業的專業人員,研究學者有研發能力但找不到資金,其研發產品卻與市場的實際需求有落差。國內產業空有製造能力,卻找不到合適的產品方向。市場通路的人才要不是替外商打工,就只是進口代理經銷。當然,在此產學研中仍有成功者,但畢竟是為少數,且絕大部分是單打獨鬥、畢露襤褸奮鬥出來的。實可謂創業維艱啊!
隨著世界潮流的進步,再加上各國政府對生物科技的重視程度日增,『生物醫學工程』成為閃亮的明日之星。近年來,因應節能減碳、人口老化、創意經濟等全球趨勢,借助我國資通訊產業的厚實基礎,行政院自民國98年3 月起陸續規畫推動「六大新興產業」及「新興智慧型產業」行動方案,以期創造我國下一波產業契機。而其中「生物科技」與「醫療照護」被列為其中兩項新興產業之中。台灣社會目前老年人口增加,醫療需求轉為治療與照護並重,此外社會經濟漸趨成熟,對醫藥及醫療服務之購買力增加,醫療照護分工逐漸專業化,創造大量人力需求,形成其相當市場規模及產值的新興產業。
三個臭皮匠勝過一個諸葛亮,團結力量大。這是老掉牙的成語,但卻也是歷久不衰的經典名言,放諸四海皆準。我們成立『中華生物醫學工程商業協進會』的目的,正是有意識的把這些人才整合到這個組織下,進行互相的交流。希望能團結以提升本土生物醫學工程產業之活絡及促進國內生物醫學工程產業的蓬勃發展,並活耀於國際的醫療產業市場。
諸多感謝大家的認同與支持,經由多方的努力,我們已在短暫的幾個月將一個突發理想變成為實質的社團實體。目前『中華生物醫學工程商業協進會』已登記有的一百多位成員,其中不乏有臨床醫師、臨床醫學工程師、學術教授、財經、資訊等專業人員,並有近百位醫療產業菁英,包含6位醫療製造業負責人及多位國內外資深經理人。兹所謂的產、學、研、醫大結合,印驗了本醫工商會目的於連結生技醫療產業、行銷通路,甚至於製造的大整合。我們的企圖正是要成立這個專業的人力資源整合平台,進一步地提供有志於此的通路業、製造業、投顧業甚至政府單位專業的顧問平台。
希望我們的努力,能讓更多有志於此的團體及個人所看見。期盼大家的參與,能真正發揮群策群力的效果,為我國的醫學工程產業的未來,開創一片永續發展的藍天。


Chinese Business Association of Bio-Medical Engineering
The Biomedical Engineering industry has been growing by leaps and bounds over the past few years. With the current technological advancements, academic collaborations and the support of government on scientific research, Biomedical engineering actually has a very promising future ahead. In fact, many of the conventional industry are already under reform and transition to the high tech high value-added industry.


Biomedical engineering is the application of engineering principles to biological, medical concepts for healthcare purposes. This includes various advanced expertise from high tech electronics, mechanical, chemical, information engineering to design medical devices such as medical implants, bionics, medical imaging equipment and other apparatus. As the technology of biomedical engineering develops, the quality of the healthcare services and benefits of patients will be significantly improved with enhance, efficient and accurate equipment.


In Taiwan, the knowledge of Biomedical engineering was first established in 1972 (61st year of republic era). The principle of Chuang Yuan Christian University Dr. Han Wei founded the first Biomedical engineering institution for higher education, with just over 3000 alumni since. As of now, Taiwan has over 26 biomedical research institutions across the nation, over thousands of biomedical engineering graduates every year. Unfortunately, during the early years, the conditions for biomedical engineers were not ideal. Due to the limited market, funding and low demand in research, real design and manufacture were difficult to be conducted; thus it wasn't valued as a mainstream profession. Few professionals succeeded in this field with endurance and little support, however, most of the graduates still joined the foreign markets or import distributions.


Taiwan has built a very solid foundation on information communication and technology in respond to the recent energy saving, carbon reduction, ageing of population, creative economy and various global trends. Since the March of 2009, the Executive Yuan (Executive branch of the Government of Republic of China) have announced its campaign to advocate the "six emerging industries" and "emerging smart industries". In particular, "Biomedical Engineering" and "Health care" was under the categorization of six emerging industries that will be strongly supported by the government. Taiwan is facing severe ageing in population at present, the medical and healthcare industry is under rapid transform and growth, moreover, as the Taiwan's socioeconomic develops, the demand for medical and pharmaceutical market will rise too. The value for biomedical engineering has increased ever since, with a high demand in professionals and research on this market to fulfill Taiwan's needs.


As a matter of fact, Industrial Economics & Knowledge Center's (IEK) latest survey showed Taiwan's biomedical and healthcare output values are only worth 1% out of the world's total output value of 200 billion USD. This was considerably lower than the world's average output value; the government launched multiple campaigns to improve on such situation. The "Central Government Technology Development Act" was a campaign launched by the government between 2000 and 2008 where total investment in biomedical field reached 115.7 billion USD, taking up 20% of the nation's technology investment. Up till February 2009, the National Development Fund has also invested 13.1 billion USD in the biomedical sector.


In the "Diamond Action Plan for Biotech Takeoff" campaign, the government established the Southern Taiwan Medical Device Industry Cluster, Hsinchu Biomedical Science Park; furthermore, the Industrial Technology Research Institute (ITRI) also founded the Biomedical Technology and Device Research Laboratories to contribute to the driving force of Taiwan's Biotech future. This shows Taiwan's potential and ambition to become premier country for the development of innovation-based biomedical technology and medical devices.


"The wisdom of the masses exceeds that of the wisest individual." This is essentially the incentive for the establishment of Chinese Business Association of Bio-Medical Engineering. We want to gather and integrate the professionals of Biotech industry; for exchange of information and collaboration to promote Taiwan's biomedical engineering industry, taking it to a real world-class standard. We currently have members from various professions including physicians, surgeons, doctors, medical engineers, scholars, financial analysts and even data scientists. In particular, we have over 100 eminent elites from the Medical business industry, 6 executives of medical companies and various international renowned managers. This integration of knowledge and experience across the academia, research, biotech, marketing channel and the industry is our strongest advantage to push Taiwan's biotech platform to another height. We are aspired to bring together a professional platform to provide more assistance to the manufacturer, investors, engineers and government; a reliable and quality consultancy communication channel.


We hope our efforts will be accredited by people who have similar interests and passion. We want to be seen; hence we assembled government officials, legislators and the elites from biotech, medical industry, hoping to bring greater exposure to the field of biomedical engineering. We sincerely look forward to everyone's participation, make effort to our association, may we work together, concur and build the brightest future for biomedical engineers together.

中華生物醫學工程商業協進會